As more and more businesses and organisations are returning to the workplace, we have seen a considerable increase in the number of enquiries we are receiving for support with Covid Risk Assessments and premises inspections to ensure correct control measures are in place. In addition to our range of business clients, we have also been supporting other organisations such as grass roots sports clubs, community centres, and volunteer groups. If you know of anyone who may need our support in implementing Covid-19 Secure procedures in to their organisation or premises, please pass our details on. We have discounts available for third-sector organisations.
Crewe Alexandra FC Partnership
You may have spotted on our social media channels that we have entered into a 3-season sponsorship deal with Crewe Alexandra football club, in a partnership that sees the iconic 'Gresty Road End' renamed 'The Rhino Safety Stand'. As a lifelong fan of the club, our Director Cate was thrilled to see 'The Alex' promoted to League 1 at the end of the abandoned 2019-20 season, and we all got to see the promotion cup at Rhino HQ recently! Here at #TeamRhino our commitment to contributing to our local community is something we're very proud of, and CAFC share that commitment, so we are delighted to be developing the partnership in the coming years.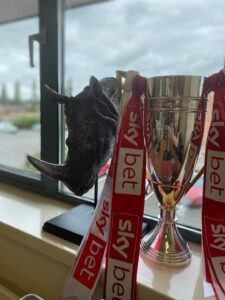 New Team Member
In August we welcomed Sylvia to the team. An expat from New York City, Sylvia has over 10 years of business support experience. Her love for technology, project planning, and organization has transitioned her from a career in teaching into business solutions for increased productivity. As Operations Manager, Sylvia will manage Rhino Safety's processes and procedures, to ensure the company is performing to its maximum potential and staying up to date with the ever changing world of business and health and safety.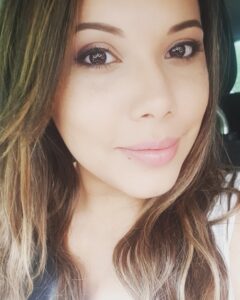 Re-Opening and being Covid Secure – 18th September
Having to follow the specific Covid-19 safety guidelines, re-opening your business can pose difficult. We can help!
We have worked in conjunction with The White Lion to ensure that their premises are compliant with the new government guidelines and that they are able to safely operate.
As a result of this, our director Simon will be doing a live walk round of the premises via a webinar and will discuss key points of safety guidelines that have been implemented. This is a South Cheshire Chamber event but will be recorded and shared via Youtube and our social media if you would like to check it out.
30% Off Online Training – ending soon
We reduced the prices on all our Online Health and Safety courses by 30% at the beginning of March to help as Lockdown came into effect. This offer will end on 30th Sept 2020. A full list of our courses can be found on our website:
www.rhinosafety.co.uk/online-training
Government change to face coverings
The list of places where it is mandatory for members of the public to wear face coverings was expanded on the 8th August. For a full up to date list on where you now need to wear face coverings please visit the www.gov.uk website.
For further details on anything included in the newsletter please call: 01270 440 341 or email info@rhinosafety.co.uk or visit www.rhinosafety.co.uk