Construction site signage is an essential part of any construction project. Construction sites are busy places with many potential hazards, so the use of construction site safety signs helps to alert workers to these hazards and mitigate any risks. The Health and Safety (Safety Signs and Signals) Regulations 1996, set out by the Health And Safety Executive, stipulates which construction site signs are needed and when. This is so construction sites can be safe places to work and helps ensure that building contractors adhere to the law. This guide will explain the different types of construction site signage and how each should be used in accordance with health and safety in the construction industry.
When To Use Construction Site Signage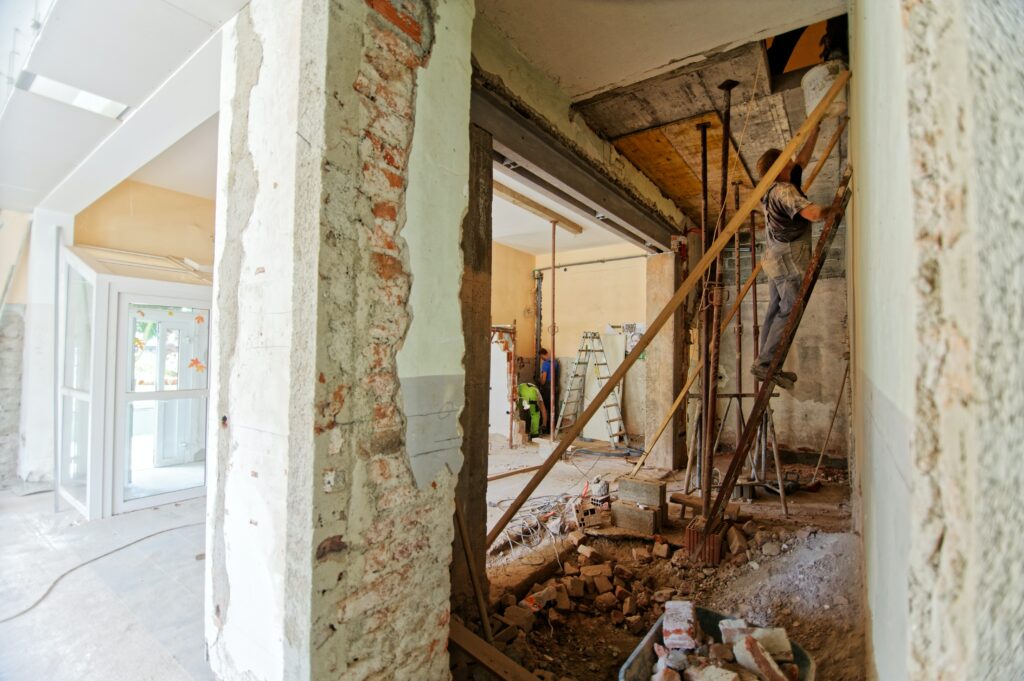 Nearly all construction sites will involve heavy machinery, sharp tools, and heights. There is also likely to be a lot of people moving around the site at any one time. This makes construction sites very dangerous places to work. Having clear and concise construction site signage contributes to keeping workers and visitors safe and is important for overall construction site safety. Failing to follow these construction site signs can have serious consequences. 
Every construction site will have its own specific hazards. This is why a comprehensive risk assessment should be completed before any work begins. The risk assessment will identify general hazards, as well as those pertaining to the particular site or job. It can then be used to determine which construction site safety signs are needed. Some signs are required by law, whereas others may not be necessary in some circumstances. Understanding the different types of construction site signs will help you decide when to use them.
Types Of Construction Site Signage
Those responsible for health and safety should know the types of construction site signage and where to place them. However, it's also vital that all operatives know what all of the construction site signs mean and can follow them correctly. 
Having too many construction site signs is advised against, as it can cause confusion. The focus should be on using the right signs and each sign should be clear and easy to read. They should be used after every other reasonable measure has been taken to reduce a risk. For example, in areas with lots of loud noise where the noise can't be made quieter, safety signs would instruct workers to wear appropriate PPE, such as ear defenders. There are typically four types of construction site signage:
Prohibitions

Safeguards

Warnings

Emergencies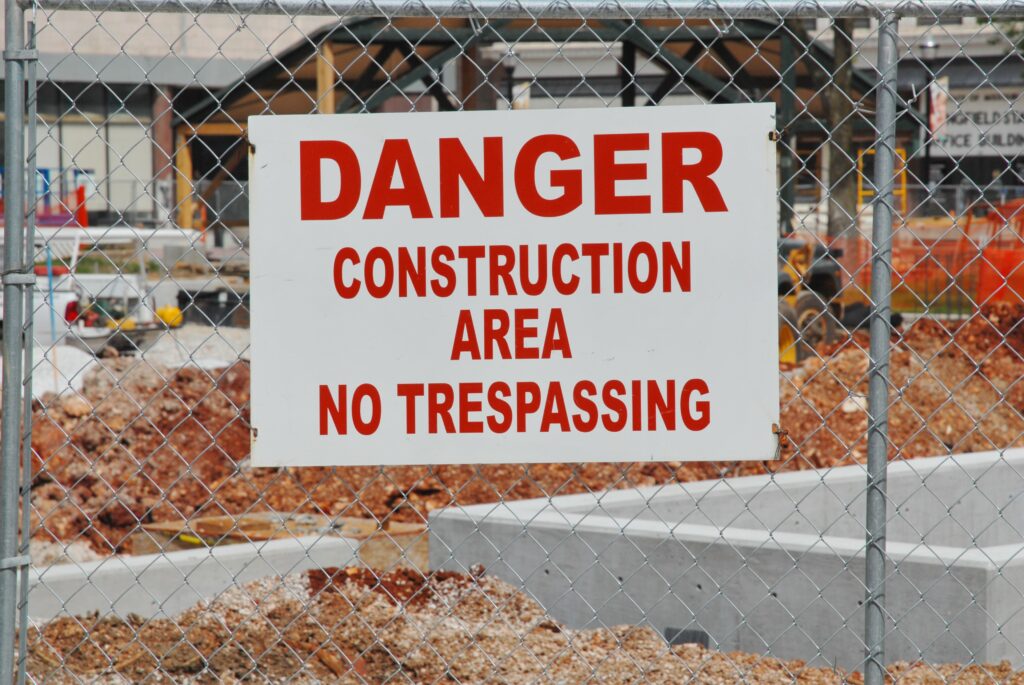 1. Prohibitions
Prohibition signs make it clear what's not allowed to happen on a construction site. These types of construction site signs are usually white with a red circle and an illustrative image that is often crossed through. There may also be some accompanying text, such as 'No Entry'. Some other examples of prohibition construction site signage are:
No smoking

No access to pedestrians

Do not extinguish with water 

No access for industrial vehicles
Prohibition construction signs are typically next to safeguarding signs to indicate the reasonable action that should be taken as well as what should be avoided.
2. Safeguards
Safeguard signs are also known as mandatory signs. These construction site safety signs give instructions about what must be done to keep workers safe and most often include messaging on the PPE that should be worn. 
Mandatory or safeguarding signs show a white image on a blue circular background. This makes them instantly recognisable. If these construction site signs are on display, then everyone in that area must adhere to them in order to comply with health and safety. Instructions you would see on safeguard construction site signage are:
Safety gloves must be worn

Safety overalls must be worn

Eye protection must be worn

Pedestrians must use this route
The type of mandatory signs in use will vary according to the particular type of work happening on site in that area, which can be detailed in any health and safety documentation. 
3. Warnings
Warning signs do as you would expect and alert workers or visitors to any hazards in the area. Warning or hazard construction site signs are recognisable by the yellow and black triangle. The pictogram of the hazard will be black and the triangle will be yellow. These construction site safety signs are especially important, because without them there's a real danger to life. They signal extreme hazards so that anyone nearby can take precautions and stay safe. Warning signs you can expect to see on a construction site might be: 
Low temperature

Overhead load

Industrial vehicles

Danger: Electricity
4. Emergencies
Construction site signage should show people what to do or where to go in an emergency. They can also be called 'direction' signs. They may include things like fire exit signs so that everyone on site can easily access a fire escape in the event of a fire breaking out. Emergency signs do not all follow the same pattern and may look different. They may have extra writing on; for example, a fire extinguisher sign would instruct users how to operate the fire extinguisher. Another example of emergency construction site signage is a sign signalling where the first aid equipment is kept. 
While the main aim of construction site signs is to minimise hazards and risks, emergency signs are vital for when an accident does unfortunately happen.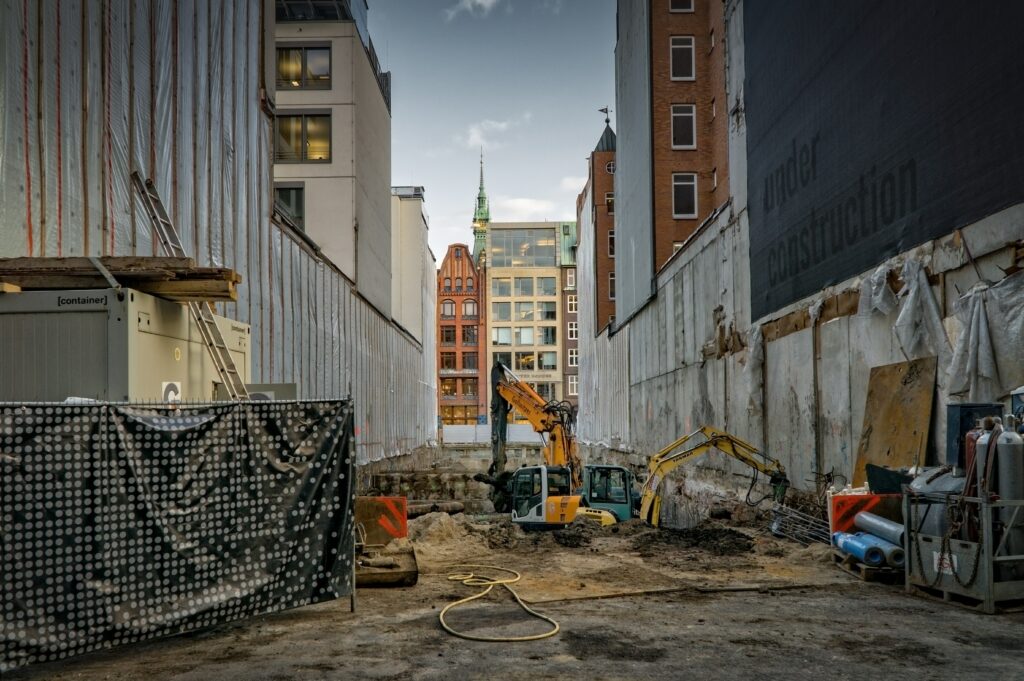 Construction Site Risk Assessments From Rhino Safety
There are many questions to ask before deciding on the types of construction site signage required. Carrying out a detailed risk assessment or health and safety audit is the best way to determine which construction site safety signs you'll need for your project or workplace. This risk assessment will identify hazards and then pinpoint which signs are needed.
Rhino Safety are experts in health and safety and can advise business owners, project managers, and site operatives on how to keep their construction sites as safe as possible, and on how to use construction site signage effectively. We also offer construction site safety training to make sure all workers are knowledgeable in keeping themselves and others safe. 
Contact us to find out what we can do to improve your construction site safety today.